Audio & Video Production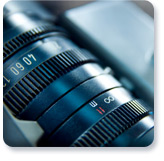 Hemmer Media Productions has over 20 years in professional audio and video production experience ranging from small a/v presentations to world tour productions. Need entertainment for your corporate party, or private function? Our DJ/KJ services come in complete packages that can be scaled to provide the perfect compliment to your event. Here is a short list of the services we can provide:
Studio/Location video production
Whether it is a private special event, like a wedding, or a large scale corporate event that you need to have documented and produced, we have the tools and the talent you need.
DJ/Karaoke Services/Live Music
We provide entertainment in many forms. We can provide musicians or singers for your event, or allow you to be the star of your own event with karaoke. Or maybe you want something that is a little more conventional. We have many different customizable and scaleable packages to suit your needs.

Corporate/Private A/V presentations
We provide image magnification services, sound amplification and production management services to help make your corporate or private event the best it can be.
Contact one of our production specialists today to start making a plan for your needs:
Web Hosting & Site Design

ProNetworks Northwest provides high quality, reliable and feature packed web hosting solutions for our customers. We pair this with a team of highly creative internet media artists and technicians to develop high-impact presences.
Custom Printing & Apparel

Hemmer Media: Impressions is our marketing and apparel printing group. From custom printed t-shirts to printed or vinyl signage for your business, we can get the word out for you
Check out raidthis.com to see some of our novelties printing.

If audio or video production is what you need it is our specialty.
From live event services to studio or location production, we have what you need. From corporate events, to concerts, to weddings/special occasions, we can handle however big or small of an event that you need.