Print & Apparel Services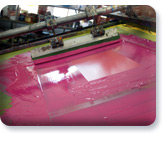 Our passion for creating items for novelty, marketing and promotion started early. What began as a hobby over a decade ago has become a powerful tool for our customers.
Hemmer Media: Impressions provides boutique screenprinting and embroidery services to suit your needs. Whether you need professional uniforms for your business, t-shirts for your community service project or cool swag for your band or entertainment group. Talk to one of our printing professionals to discuss your needs, be it apparel or customer signage for your event or business location.
Web Hosting & Site Design

ProNetworks Northwest provides high quality, reliable and feature packed web hosting solutions for our customers. We pair this with a team of highly creative internet media artists and technicians to develop high-impact presences.
Custom Printing & Apparel

Hemmer Media: Impressions is our marketing and apparel printing group. From custom printed t-shirts to printed or vinyl signage for your business, we can get the word out for you
Check out raidthis.com to see some of our novelties printing.

If audio or video production is what you need it is our specialty.
From live event services to studio or location production, we have what you need. From corporate events, to concerts, to weddings/special occasions, we can handle however big or small of an event that you need.